The compliance and risk landscape is at an inflection point. It is evolving quickly, with regulation and enforcement intensifying. The spectre of off-channel communications, the shift towards individual responsibility, organizations fostering a compliance-positive culture; all of these areas are presenting companies and compliance professionals with new challenges – and new opportunities.
On June 8, 2023, we were delighted to welcome leading banking, finance, insurance, legal and compliance professionals to our London offices for our Compliance & Conversation event. Designed as a platform for knowledge and experience sharing, and to forge stronger connections across the compliance community, it served as a fantastic opportunity to unite under the core compliance concept of 'doing the right thing'.
It's all about the confidence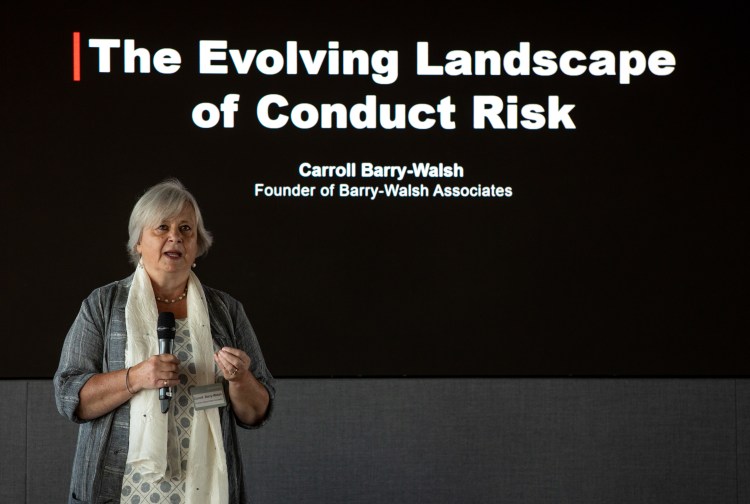 A session focusing on 'The Evolving Landscape of Conduct Risk' was presented by Carroll Barry-Walsh, Founder of Barry-Walsh Associates, and explored the Evolving Landscape of Conduct Risk. Leveraging Barry-Walsh's personal experiences of both sides of the investigative process, the session examined how, once an issue of conduct risk has been identified by regulators or law enforcement organizations, you are already on the back foot. Every action taken after this point is designed to regain confidence – of the market, of stakeholders, of your staff, and of the public.
A key theme of the session was that of proactivity, rather than reactivity, when it comes to risk and compliance. Building a positive culture around the understanding that it is a case of 'when' problems happen, not 'if', is essential in being prepared to handle these challenges at a speed that mitigates their impact. In order to find the necessary information completely, accurately, and from all relevant sources and channels, organizations need to have the appropriate tools in place before an incident occurs – not look to find the right tools after the fact.
Creating a pro-compliance and risk-aware culture should not be an afterthought, or seen as something that can be instilled by additional training. It is established from the top down, and is about professionalism at all levels, embedding professional conduct as a fundamental tenant in everything you do. The question to ask, according to Barry-Walsh, is not 'can I do this?' but 'should I do it'?
'The good news is, it's not all bad news'
The above words from our Chief Strategy Officer and event moderator Alex Viall act as a fantastic summary of the tone of the event's closing session, a panel discussion on Compliance Surveillance. Joining Carroll Barry-Walsh were Patrick Spens, Head of Market Regulation at ICE Future Europe and former Head of Market Monitoring for the Financial Conduct Authority (FCA), and Rob Mason, Global Relay's Director of Regulatory Intelligence.
The free-flowing conversation encompassed how senior and mid-level managers can lead the way in establishing compliance-positive culture. Barry-Walsh explained her belief that senior staff need to lead by example and exhibit the behaviors they want others to follow. Both she and Spens agreed that the way to build both a brand and a culture of compliance is to create a narrative, to share practical stories with people throughout an organization that make things personal, so that junior staff can imagine themselves in that position and think about how they would act – and how they would 'do the right thing'.
The session, and indeed the event, ended with the panel looking futureward and sharing their predictions for the next great challenge in the compliance risk and financial spaces. Spens sees the greatest risk as sanctions. He firmly believes US regulators are policing a stringent regime of sanctions, and it is inevitable that firms will be drawn into needing to prepare for and abide by this regime.
For Barry-Walsh, tackling the ongoing illicit communications scandal should be a primary concern for organizations. She sees the disconnect between the speed at which potentially harmful communications can be captured, the number of channels they can be distributed across, and the lack of thought that can be exhibited in what people say as an ongoing source of risk that organizations must manage.
Despite these predictions, the prevailing undercurrent is one of cautious positivity. Throughout the compliance space, we have the expertise, experience, tools, and talent to ensure we are prepared to tackle risk head-on, and to create the culture needed to remain resilient and proactive. We just need to keep up the conversation.
We would like to thank our speakers and all of our attendees for joining us for an engaging and productive event, and for helping us move the conversation around compliance forward.