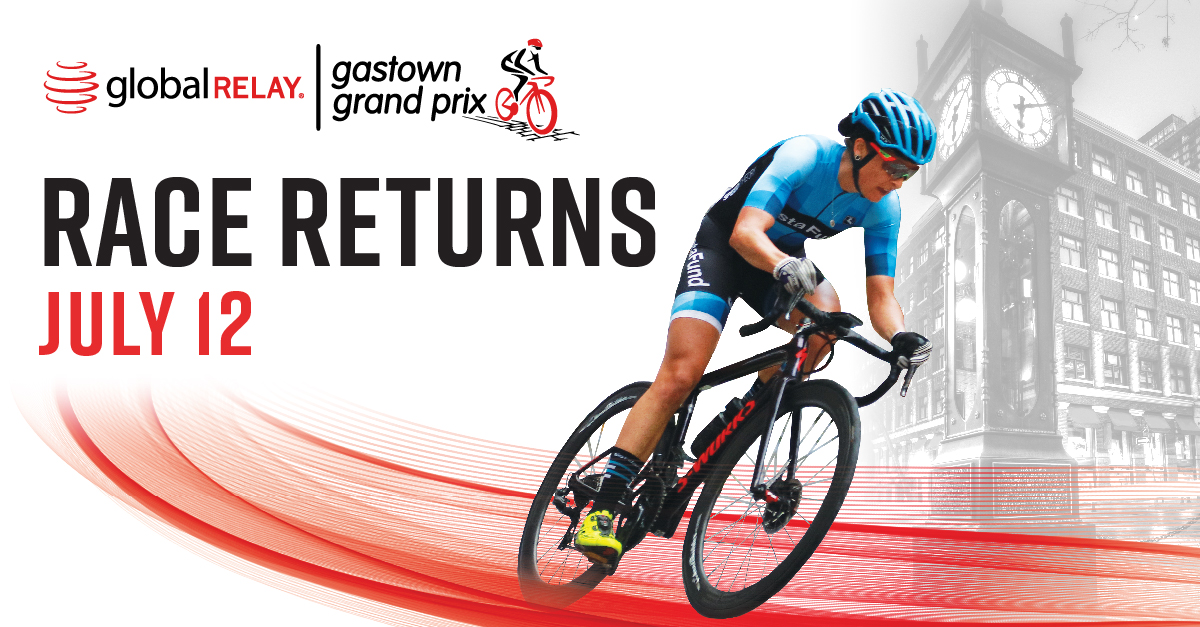 2023 Global Relay Gastown Grand Prix riders to watch
The Global Relay Gastown Grand Prix is preparing for its 50th anniversary, and has launched a new course to celebrate.
Vancouver, BC – The 50th anniversary of the storied Global Relay Gastown Grand Prix arrives on Wednesday, July 12 and with more than $50,000 in combined prize money and primes on the line and some of the top Canadian cyclists and professional American teams registered to participate, the racing will be fast-paced and exciting from start to finish.
Below is a list of some of the top riders registered for this year's Global Relay Gastown Grand Prix, though history has shown to never count out the top local riders. Many on this list are returning pros after catching the eye of team directors in previous years at the race.
Women's field
Alison Jackson, EF Education–Tibco–SVB
Jackson is the first Canadian cyclist ever to win the famed Paris-Roubaix, which she did this past April. A multisport athlete who is also adept in cross-country running, Jackson is the current Canadian road cycling national champion. She also claimed the national championship road race and time trial in 2021. The Vermillion, Alberta native represented Canada at the 2020 Summer Olympics in Tokyo and claimed silver and bronze medals at this year's Pan American Road Championships. Locally, Jackson is a multi-time winner at BC Superweek events, including victories at the 2019 editions of the Tour de Delta | White Spot UCI Road Race and New West Grand Prix.
Leah Kirchmann, Denver Disrupters
Kirchmann is another marquee rider in the women's field for the Global Relay Gastown Grand Prix. She's won the race twice, in 2013 and 2014, and is looking to join an elite group of women who have won the storied event three times. The 33-year-old is a three-time Canadian national time trial champion, having won the title in 2014, 2018, and 2019. She represented Canada at the 2016 Summer Olympics in Rio and the 2020 Games in Tokyo and won the 2016 Giro Rosa prologue to claim the first Maglia Rosa of the 10-stage tour. The Winnipeg product also finished the 2016 season ranked second overall in the Women's World Tour series.
Kendall Ryan, L39ION of Los Angeles
Ryan is looking to become the first cyclist to ever win the Global Relay Gastown Grand Prix four times. After victories in 2017, 2018, and 2019, she is just the second woman ever to claim three straight titles in Gastown, joining Verna Buhler who did from 1981-83. Much like previous years, Ryan has momentum in her return to British Columbia, as she was third at last month's U.S. Pro Criterium Championships. B.C. agrees with the native of Ventura, California as she has eleven wins at former BC Superweek events from 2017-19. The 30-year-old Ryan was born into a family of cyclists and began racing BMX at 6-years-old.
Men's field
Sam Boardman, L39ION of Los Angeles
As an athlete who was a competitive runner until he attended UCLA, it turns out Boardman is much faster on two wheels than two feet. The 27-year-old from Washington, D.C. continues to open eyes as part of the L39ION of Los Angeles team, including a win at the McElroy River Parks Criterium last month as part of the Saint Francis Tulsa Tough in Oklahoma. The fifth-year pro was fifth in this year's United States national championships road race a couple of weeks ago and made the podium in third at April's Sea Otter Classic in Monterey, California.
Kaler Marshall, Expeditors Elite Cycling
It is a common sight to see Marshall on the podium in B.C.'s Lower Mainland. He finished second in the Tour de Delta | White Spot UCI Road Race in 2018 and 2019 in addition to being runner-up in the 2016 Tour de White Rock Road Race. The 37-year-old, who hails from Walla Walla, Washington, also took home the 2016 Tour de White Rock omnium (total points). More recently, he claimed third place in May's Tour de Bloom general classification after finishing top-20 in each stage of the event, which is held in Wenatchee, Washington. Marshall also nabbed the Redlands Classic king of the mountain prize last year.
Campbell Parrish, Red Truck Racing
Parrish, from Vancouver, is a rising star in Canadian cycling. He took top spot on the podium at the 2023 U23 B.C. provincial time trial and third in this year's road race. The 18-year-old was also fourth at this year's U23 Canadian national road championships time trial after winning the Junior time trial last year. On the pro circuit this year, Parrish claimed the Tour de Bloom general classification in May after finishing first in two of the event's four stages.He was also part of the Canadian team that finished fifth in the team pursuit at the 2022 UCI Junior Track Cycling World Championships in Tel Aviv, Israel.
Justin Williams, L39ION of Los Angeles
Williams is manager and sprinter for L39ION of Los Angeles, a team he co-founded alongside his brother Cory four years ago. In addition to his cycling accomplishments, the 34-year-old from Los Angeles is a champion for diversity in the sport of bike racing. Williams was the winner of the inaugural PoCo Grand Prix in 2016, a year before he claimed the title at the Tour de Delta's Brenco Criterium. Williams won back-to-back U.S. national road race championships in 2018 and 2019 and the national criterium title in 2019. In 2021, he changed his UCI nationality to Belize, which is where his father is from, and won the Belize national road race championship that same year.
The 50th anniversary of the Global Relay Gastown Grand Prix starts with the Youth Race at 5:30 p.m., followed by the official opening ceremonies at 5:55 p.m. The pro women's race begins at 6:15 p.m. while the pro men take the course at 7:30 p.m. The official award ceremonies are set to occur around 9 p.m. at the start/finish line at the corner of Water St. and Cambie St. in historic Gastown.
Live streaming of the men's and women's races is available on the Global Relay Gastown Grand Prix website at https://globalrelayggp.org/.