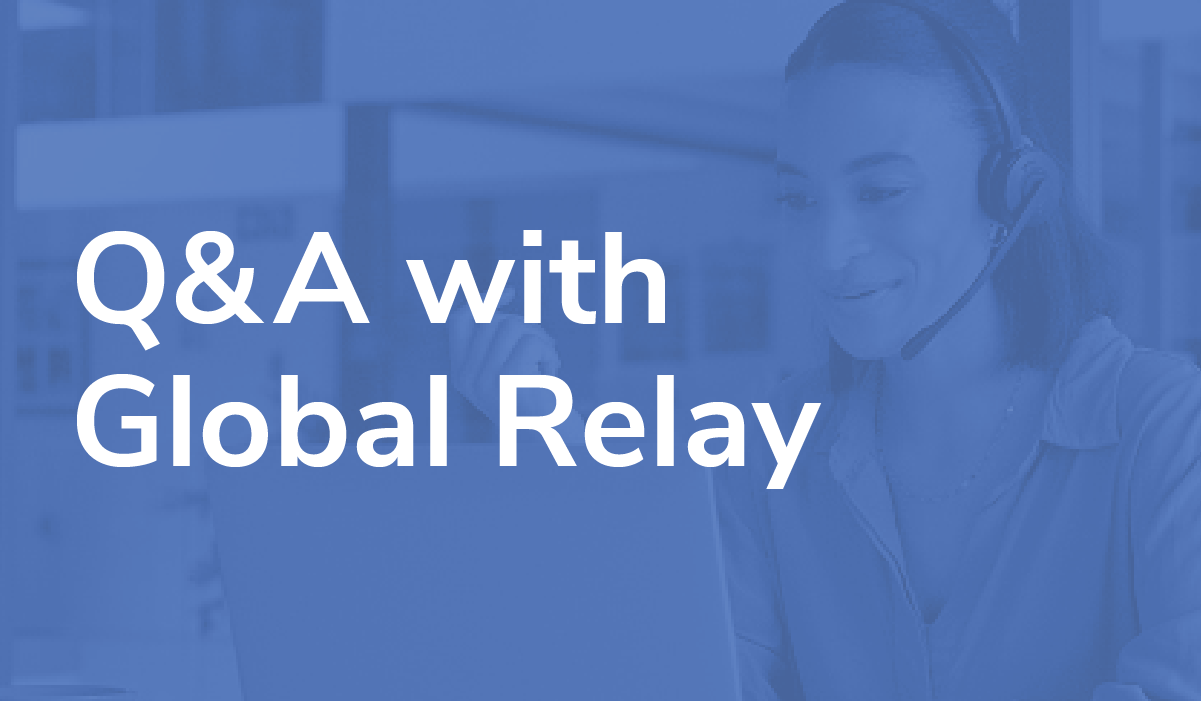 Q&A: How training and customer support enables confident compliance
As regulators push towards operational resilience and increased transparency, we take a look at the important role of training and customer support within Global Relay.

As the needle moves towards increased transparency and accountability in financial services and beyond, a top-down culture of compliance has never been more important. As the Chair of The U.S. Securities and Exchange Commission (SEC) Gary Gensler recently noted, "nothing motivates […] quite like accountability". Regulators are looking to lift the lid on the inner workings of firms and, in doing so, a light is shone on the roles, responsibilities and knowledge of individuals.
The shift towards accountability pairs neatly with increased regulation for operational resilience and effectiveness. Under new rules, from the Digital Operational Resilience Act (DORA) to the Financial Conduct Authority (FCA) final rules on Building Operational Resilience, systems need to be always-on and efficient. As well as this, the individuals responsible for their functioning must be highly trained and adept to manage systems, processes and controls in the event of disruption. Where operations fail, the responsible individual will be held to account. The stakes have never been higher.
With that in mind, we see an increased focus on training. For example, in September, the SEC issued administrative proceedings against the Chief Compliance Officer (CCO) of a wealth management firm. In finding that the CCO had failed to adhere to the Custody Rule, it asked them to complete 30 hours of training to align with regulatory expectations. Where once individuals may have sat through a brief PowerPoint presentation, regulators are now expecting that the people responsible for technology are fully trained and fully engaged.
Here at Global Relay, we have a dedicated Training and Customer Support team to enable customers to meet their compliance obligations. We recently sat down with Ana Sampaio, a Lead in Global Relay's Product Training and Customer Support team, to understand the ways she and her team help customers optimize their use of compliance technology.
Global Relay (GR): Could you tell us a bit more about your role?
Ana Sampaio (AS): I'm a Lead in Global Relay's Product Training and Customer Support department. Our team is a primary point of contact for customers who use the Global Relay Archive for their electronic communications surveillance. We cover a broad range of training and support measures; from introducing new users to the platform, to sharing best practices when performing their day-to-day activities.
Our customers come from various industries, but many are compliance professionals working in highly regulated organizations. Over the past few years, we've seen regulatory expectations increase and customers are eager to make sure they're archiving their data in the most efficient and compliant way. As a result – and as customers progress with using the Global Relay Archive – questions naturally come up. Our experienced team are available to help them navigate complex compliance obligations, use the platform to its best potential, and give them peace of mind that they're doing things right.
GR: What are some of the key challenges that customers come to you with?
AS: We assist across a range of scenarios and at different phases of the customer journey. Many need our help creating and structuring policies that are more pertinent to their business, including targeted keyword monitoring. False positives, where irrelevant types of messages are flagged for review, are a daily headache for compliance teams and waste valuable time, so we help with refining policy criteria to improve 'red flag' accuracy to reduce false positives and improve productivity.
Many customers also reach out to us on the back of a time-sensitive audit or regulatory request – people really start engaging when the regulator comes knocking. Our team have been training and managing the Global Relay Archive for over 10 years; they're very comfortable navigating regulatory audits with strict deadlines. This means we can help customers to gather the requisite communications data and other records – often across multiple channels – from their Archive.
GR: The combination of COVID-19 and globalisation has seen a huge increase in distributed workforces. Has this affected the support and training that you're able to provide?
AS: With hybrid work and cross-border offices, the breadth of channels that organizations and employees use regularly for business messaging and communication have greatly expanded. While this is great for breaking down barriers to communication, it also means our customers are contending with compliance requirements across even more data sources. As more of our customers incorporate new data types like LinkedIn, Slack, WhatsApp, and Teams into their Global Relay Archive for supervision, we help them with the onboarding of these new channels, and enable them to adapt their compliance workflows to include this new data.
In terms of training, we've expanded the resources in our eLearning platform, which gives our customers access to a library of instructional and educational material, so they can refresh their memories or learn at their own pace. We are proud that Global Relay's Customer Service team has been described time and time again as "first class", and we have continued to offer a white glove service to our customers through customized remote and in-person training and support. Post-COVID, we're now seeing customers increasingly using our online Learning Management System (LMS) to troubleshoot and acquire new skills.
GR: What do you enjoy most about your your role in Training and Customer Support?
AS: Personally, I really enjoy the interlock of Training and Customer Support as well as the dynamic nature of this industry. I love seeing success stories, for instance, where we assist a customer in a regulatory audit and you see them quickly go from stressed to smiling. As a customer service specialist for over 10 years, I naturally thrive on exceeding customers' expectations and improving processes to deliver positive business outcomes. It might sound strange, but I find it incredibly rewarding knowing that I've helped a customer keep out of trouble.
Global Relay offers archiving solutions for regulated organizations of all shapes and sizes. We empower compliant communications.