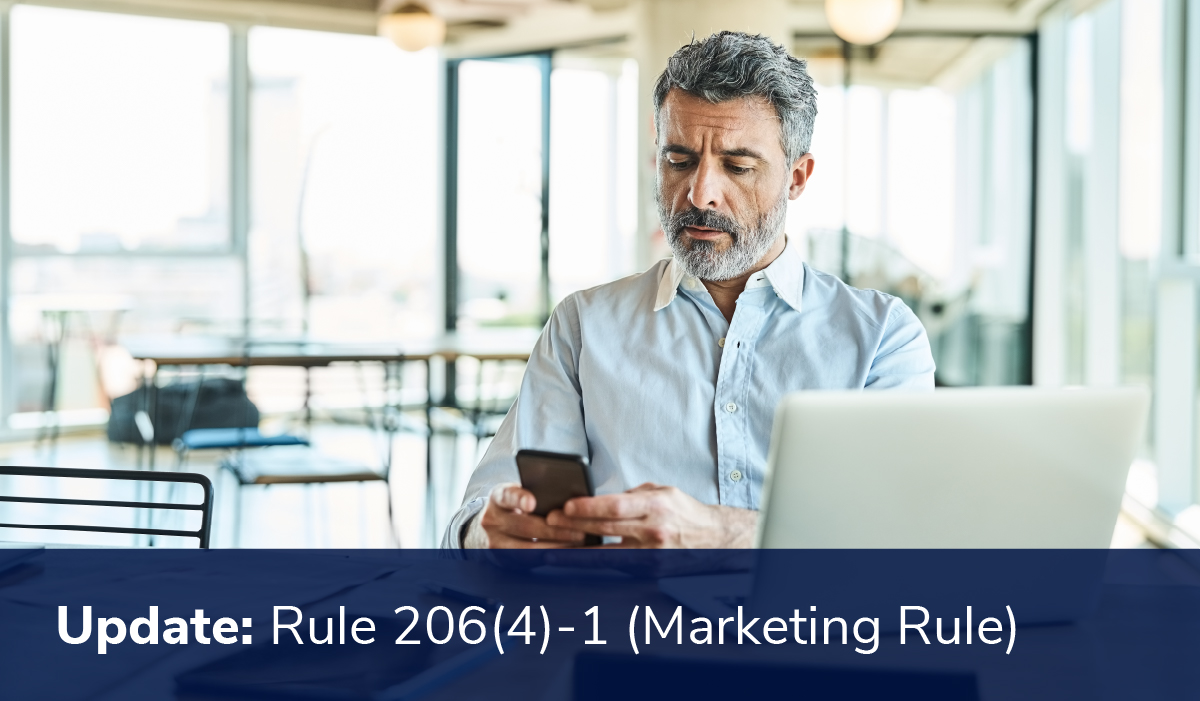 End of Transition Period for the New SEC Marketing Rule
As of November 4, 2022, SEC-registered firms must comply with all provisions of the new Marketing Rule. Read more on the substantive changes ahead.
Well, it is finally here – November 4, 2022 – the final implementation date for the Securities and Exchange Commission (SEC) Marketing Rule. Since it has been nearly two years since the SEC released its modernized rules that govern investment adviser advertisements and payments to solicitors, all registered investment advisers (RIAs) should have adopted any and all changes by now in order to be compliant by the deadline.
With the new SEC Marketing Rule, the regulator has consolidated and modernized the Marketing Rule to now address electronic communications via websites and social media platforms. Given that Rule 206(4)-1 has not been substantially amended in over 60 years, these amendments are an important step in bringing investment adviser regulation up to date in our modern, digital-first business world.
Summary of SEC Marketing Rule 206(4)-1 Changes
The Definition of Advertisement
The definition of an "advertisement" has been amended to include:
1) An RIA offering its services regarding securities to existing or prospective clients; or
2) Any endorsement or testimonial for which an RIA provides cash or noncash compensation.
Testimonials and Endorsements
The SEC reversed its long-standing prohibition against the use of testimonials and endorsements by allowing them within the guardrails and parameters it has established.
Third-Party Ratings
A third-party rating is defined as "a rating or ranking of an investment adviser provided by a person who is not a related person and such person provides such ratings or rankings in the ordinary course of its business." Third-party ratings are allowed under the marketing rule as long as the RIA adheres to basic parameters.
Performance Advertising
The SEC Marketing Rule details seven specific requirements and prohibitions for presenting performance information:
1) gross and net performance
2) prescribed time periods
3) statements about SEC approval
4) related performance
5) extracted performance
6) hypothetical performance
7) predecessor performance.
General Prohibitions
The new SEC Marketing Rule enumerated general prohibitions that boil down to prohibiting any false or misleading statements in advertisements.
Form ADV
The SEC amended Part 1 of Form ADV to include a new subsection, Item 5L, which requires RIAs to describe where they use advertising including testimonials, third-party ratings, performance advertising, etc.
Recordkeeping
Last and certainly not least, and of particular interest to Global Relay, are the amendments to RIA recordkeeping requirements. The final rule states, "Investment advisers must make and keep records of all advertisements they disseminate, and certain alternative methods for complying with this provision are available for oral advertisements, including oral testimonials and oral endorsements." Global Relay is here to assist RIAs with the maintenance of all distributed advertisements under the new SEC Marketing Rule regardless of the platform – email, websites, social media, etc.
Criteria for Examinations under the SEC Marketing Rule
The SEC recently shared its criteria for examinations under the new Marketing rule on September 17, 2022 in this Risk alert: "Examinations Focused on the New Investment Adviser Marketing Rule".
If the SEC has gone to the trouble of sharing its examination game plan, RIAs can prepare themselves that these questions will be asked. Additionally, given that the SEC Marketing Rule has a two-year runway, it's doubtful that it will look the other way when violations are detected. Let's hope RIAs are prepared.