Upgrade to the open, available archive.
Upgrade to Global Relay.
With the permanent shift to hybrid work, there has been a proliferation in digital communication and collaboration channels to keep dispersed teams connected. Now more than ever, you need secure, flexible, cloud-native archiving solutions to unify your business communications and glean actionable insights from your data.
Global Relay's intelligent archive enables you to connect any conversation on any channel – and retrieve that data whenever you need it. Learn more about how to make your archive work for you in this latest release.
Easily migrate historic data from legacy systems to Global Relay's secure and flexible archive with the latest Global Relay Extractor tools:
Upgrade to Global Relay from Dell EMC SourceOne and Veritas Enterprise Vault on-premise archives with our new Global Relay Extractor for S1 (SOX) and EV (EVX)
Benefit from a scalable, high-speed extraction solution for legacy data that preserves a full, clean chain of custody and reconciles every message
Leverage Global Relay's Data Services expertise or certified technology partners throughout the upgrade process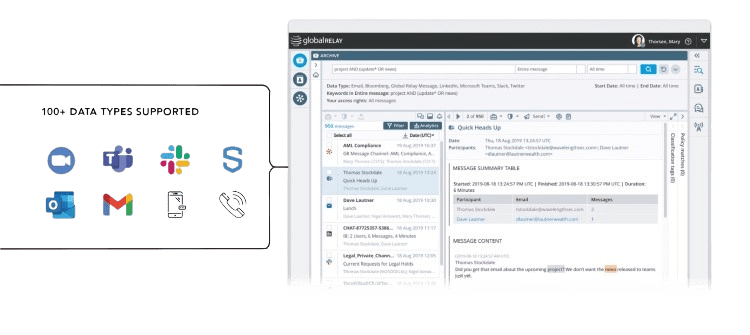 Rapidly connect digital communication channels across the continuum of traditional and emerging workplace collaboration and social apps with our proprietary Open Connector Network:
Record traditional data types such as email and corporate texting
Capture other collaboration channels such as Teams, Slack, Zoom, Symphony, Google Workspace and WhatsApp
Be risk-ready for emerging channels with an extensive API library ready to connect new data sources to your archive or another destination of your choice
Extract actionable insights from your data with our advanced Artificial Intelligence (AI) that not only stores information, but also tags and organizes it through a range of classifications that make searching faster and easier than ever before:
Reduce false-positives for regulatory supervision with natural language processing, text analysis, and computational linguistics to measure sentiment in text and voice communications
Support for more than 100 languages in text/voice communication, enabling efficient supervision workflow management
Record and analyze metadata from employee conversations – the way they communicate, frequency, channels, and topics – to identify misconduct, bad actors, and policy violations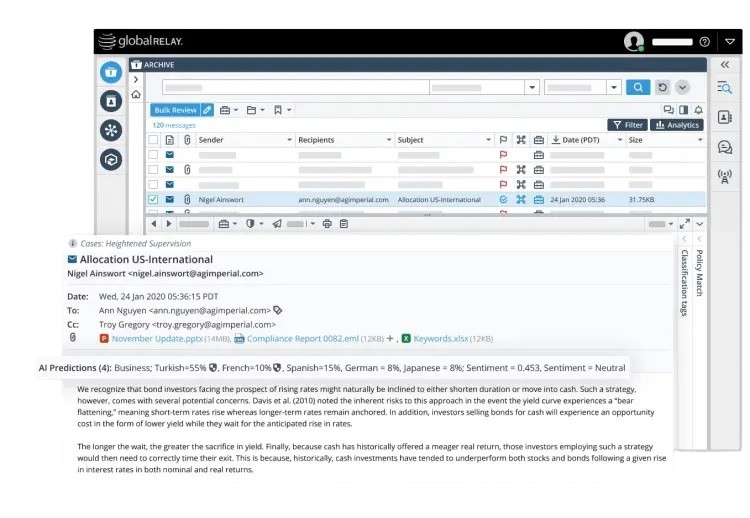 Identify, collect, and present data at a moment's notice with Global Relay's Discovery-as-a-Service (DaaS) offering:
Get defendable search results for litigation, subpoena or investigation in seconds versus days
Manage risk and save money by bringing eDiscovery in-house with support from a dedicated Global Relay data services representative
Service available 24/7/365