Get the Gartner Report
Global Relay Archive Ranked The Highest In All Four Use Cases in 2022 Gartner® Critical Capabilities For Enterprise Information Archiving.
Global Relay Archive is recognized for the 10th time in Gartner Critical Capabilities Report.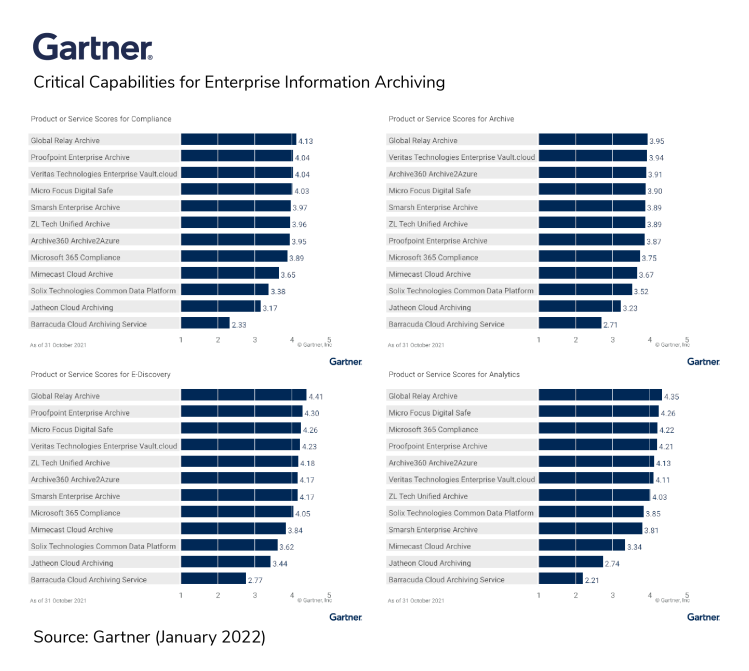 Global Relay Archive saves time and a headache when it comes to compliance management.
"The Global Relay Archive service is reliable and easy to use. I cannot imagine compliance management without this product."
CIO, Services Industry
Read Full Review
The best product for electronic communication supervision and archiving.
"At my prior firm, we used one of Global Relay's competitors. Since moving to a new employer, I have been thrilled that we now use Global Relay. Much better functionality and customer support."
CXO, Finance Industry
Read Full Review
Complete solution suite with full support and interesting functionalities.
"Coming from another tool we were looking for a robust solution for all e-communications feeding, archiving and monitoring. Tool is powerful enough for daily surveillance and support team was very present during all the implementation process, helping us a lot, including in relationship with external providers."
Security and Risk Management, Energy and Utilities Industry
Read Full Review
Connect everything
Electronic communications, voice, trade data, social media, and files.
Transform all of your data into clean, discovery-ready feeds – delivered to our archive or yours.
Popular connectors:
Other Connect solutions:
Compliant collaboration
Put compliance at the heart of your business with a collaboration platform designed for regulated organizations.
Unified Communications
Chat compliantly with your customers, colleagues and industry peers via text, voice, WhatsApp, video, or instant message.
Available on iOS, Android, and desktop.
Store anything. Discover everything.
Don't just store your data. Gain deep insight with dynamic discovery tools – powered by AI and tailored to your business.
Archive
Enrich, store, manage, and discover your data – all in one system.
Compliant storage
Dynamic policies
Team workspaces
Real-time AI
Custom workflows
Collaboration tools
Solutions for every industry.
Scales to every business.
Finance
Compliance is our specialty. Find out why thousands of financial services firms and banks use our solutions to meet their recordkeeping, supervision, data protection, legal hold, and discovery requirements.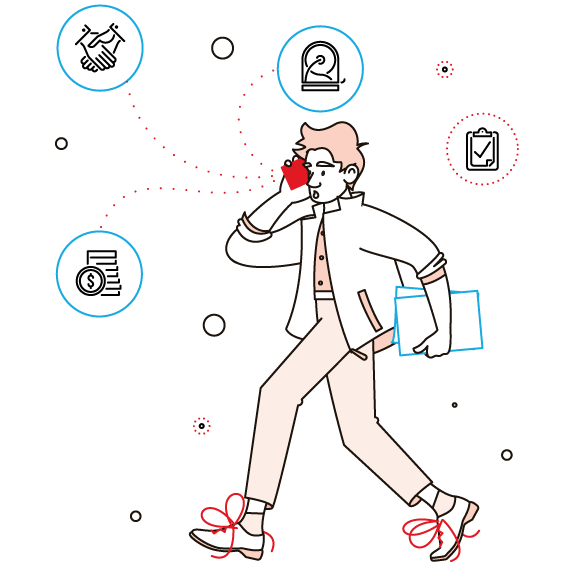 Energy
Helping energy businesses drive growth.

Insurance
Unique solutions for insurance companies.

Enterprise
Helping the world's leading corporations.

Healthcare
Because healthcare has never mattered more.

Government
Powerful solutions for public sector organizations.
Trust your data with the industry leader.

20,000+ customers worldwide

22 of the top 25 global banks served

Connectors for ecomms, voice, trade data, and files

24/7/365 live support

850+ data productions each month
Getting started couldn't be easier.
Book a tailored demo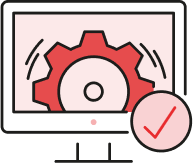 Let us know what you need, and we'll give you a demo showing how our powerful solutions can help drive your business forward.
We design your solution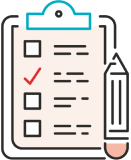 If you like what you see, we'll design your custom solution, factoring in your unique requirements and challenges.
Complete the legals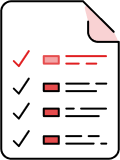 We'll get the legal agreements drawn up, working in partnership with your legal team.
…Then we'll deploy your solution, and you're ready to discover.
Fill in a quick form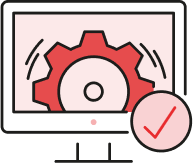 To get started with the app you'll be asked to fill in a short form so we can securely register your company domain, making sure we safely archive all of your communication.
We'll customize your solution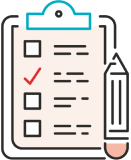 We'll help create the right collaboration solution for you, with our range of services, including chat, text, voice and video.
Install and activate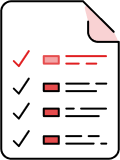 We'll send you your customized install package, ready to share with your teams.
… And you're good to go. Happy collaborating!
Find the right connectors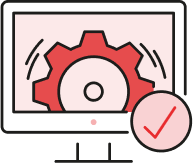 We'll assist you in finding the right connectors and getting the communication channels ready for archiving.
We'll set you up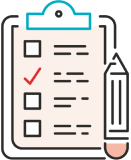 We'll make sure your Global Relay Archive is ready to capture, classify, and securely store your data. Or we'll deliver your data feed to your preferred system.
Authorize the capture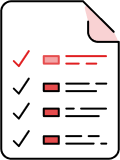 For some feeds, such as social media, end users will need to authorize capture. Whatever the requirements, we'll support you all the way.
… And that's it. We'll turn the raw data into clean, structured feeds.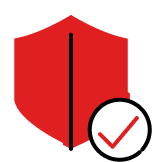 Our Security Strategy
No one takes the security of your data more seriously.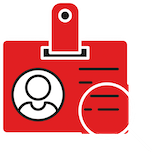 Know Your Vendor
Partner with a vendor you can trust.
Global presence. World class support.
With offices in Chicago, New York, London, Vancouver, and Singapore, we provide true 24/7/365 support – whenever you need it.