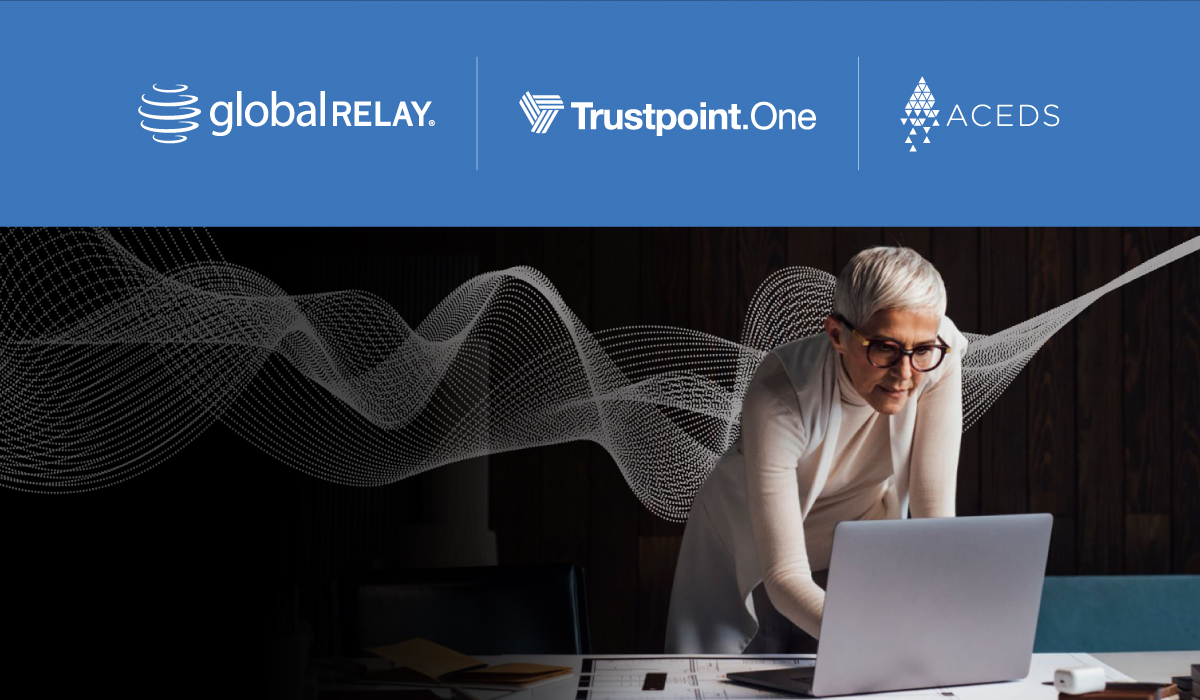 Litigation Readiness: eDiscovery in a Hybrid Workplace
What it takes to have a proactive discovery program in the world of hybrid work.
In our latest hosted webinar Global Relay's Head of Audit & eDiscovery, Glenn Rogers was joined by experts from the Association of Certified eDiscovery Specialists (ACEDS), and leading provider of specialist legal solutions, Trustpoint.One to discuss the impact of the permanent shift to hybrid working on litigation readiness, the discovery process, and how eDiscovery professionals should respond in a forever-changed world.
The hybrid economy has created dispersed teams and individuals using a combination of channels and devices to conduct business. To explore the impact of this new working model and the associated data risk management challenges of it, Global Relay recently hosted a webinar, Preventing Litigation Disaster: Leveraging Your eDiscovery.
Glenn Rogers, Director of Audit and eDiscovery, kicked off the discussion by sharing that it is now "easier than ever" for a firm's employees to share sensitive or confidential information – whether unintentionally or otherwise. Rogers also drew on two recent examples where firms had been exposed in this way:
• Hackers infiltrated a video game company's Slack channel by posing as colleagues in need of tech support, before accessing its systems and stealing large amounts of source code.
• The well-publicized enforcement against JP Morgan Securities, which was fined $125m by the SEC for recordkeeping failures linked to its employees' use of WhatsApp and personal email accounts.
The removal of 'the fourth wall'
New ways of communicating amid widespread remote work has brought an informality to business conversations that has its benefits but also carries risk. While this disappearance of the 'fourth wall' creates a sense of familiarity and openness, it can also increase the potential for incidences of conduct risk as people feel more "anonymous" in their own homes.
JacIyn Schoen, VP of Strategy & Augmented Intelligence at TrustPoint.One commented on the uptick in companies concerned about harassment as new ways of communicating can lead to conversations that are more litigious in their nature. Given the vast array of emojis now being used across channels like mobile and slack, she said there is very real potential for these to be misinterpreted – potentially making it hard to decipher the tone of a given message, and if it could be litigious in nature.
Key discovery challenges brought on by a new environment
The panel also shared their thoughts on some specific challenges that the hybrid workplace raises for legal professionals, including:
• Collection complexities – Teams must increasingly gather information across a multitude of new and emerging data sources beyond just email – and where the audit trail and metadata for each is different. For instance, how do you search for an emoji that could indicate negative sentiment? Do your current tools allow you to search across these diverse data sources in a way that enables you to confidently identify and extract meaningful data for review?
• Custodianship – Shared data sources lay wide open the definition of custodianship, and how it affects cases. Collecting and processing by custodian (as opposed to channel) when those custodians increasingly have access to the same data sources, results in the recollection and reprocessing of data several times over, and will bear heavy on the eDiscovery process.
• Conduct & Training – The use of personal devices leaves corporate data vulnerable, and firms need to ensure information governance policies are updated so that employees are aware of changing protocols and their responsibilities when working remotely (including what authorized communications they can use). This should be followed with training where required, as well as an update to information security practices.
EDRM: The importance of an outcomes-based approach on litigation readiness
Knowing the story you are trying to tell, and getting the data to support it, will inspire an outcome-focused approach to litigation readiness.
While the Electronic Discovery Reference Model (EDRM) has been used to guide the eDiscovery process for over 15 years, the need to produce and submit data that is complete and accurate is increasingly dependent on the ability to capture, and intelligently classify, data from a growing number of sources that are now relevant to an investigation.
This is where the right eDiscovery partner can make an impactful difference – to help you find that 'needle in the haystack'. Fast.
This is how Global Relay's Discovery-as-a-Service (DaaS) offering works – featuring sophisticated message classification and advanced search capabilities to deliver more accurate results and lower volumes of irrelevant data.